DAVID AYLETT
A celebration of the life of a pianist, organist, timpanist, singer,
conductor and composer – and architect.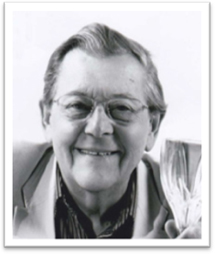 David Aylett passed away on Saturday 13th September 2014 while on holiday in Guernsey with his wife Pat. Barbara Fell, a founder member of AFC, and Pat recall these memories of David.
David was born in Aylesbury in 1931 and lived all his life within about a 2 mile radius of his birthplace. He had 2 children – Mark, who sadly died in 2002, and Kathryn, and was the proud grandfather of Carl, Craig, Layla and Ross.
David was an architect by profession and a musician by inclination and talent. He started learning the piano when he was 7, and also learnt the organ from the age of 11. For a number of years he was the organist at the Congregational Church which once stood in the High Street. He attended Aylesbury Grammar School where his love and enthusiasm for music was nurtured by the head of music, Charles Pope, who trained him in choral singing, music appreciation, score reading and many other skills he would need to open the doors to the musical world. Charles became his mentor and life-long friend.
Aged 17, David was undecided whether to become a professional musician or an architect but his father advised him that being an architect would be a more financially rewarding career. He took his father's advice but music remained a life-long interest and passion. David qualified as an architect in 1954 and after 2 years in national service he began his working life with Bucks County Council. During his successful career he designed many schools, youth centres and other buildings and eventually became head of the property section, responsible for the maintenance of all the buildings owned by the County Council.
David began playing for the rehearsals of Aylesbury Orchestral Society recently started by Charles Pope. Then in 1956 he was invited to take over the timpani from a player who was leaving the area and later he became Assistant Conductor to Charles.
During the 1940s Charles Pope conducted a carol concert each year involving the Choral Society and Aylesbury Grammar School choir, but by 1948 his other commitments with the Choral Society meant the concerts had to end, much to the disappointment of both singers and audience. David came to the rescue and sent an invitation to all the church choirs in the area to join a United Festival Choir to sing carols. The response was great and a small group of 12 also formed an orchestra. The concert was a success and so, after a break while David did his National Service, in 1958 he sent out a second invitation as a result of which 50 voices came together for rehearsals. December Festival Choir thus came into being with David as Conductor. Despite David being an amateur, singers of the calibre of Isobel Baillie, Heddle Nash, Heather Harper, Pamela Bowden, John Lawrenson, Gerald English and Owen Brannigan were happy to come and sing under his baton and thus he became well-known in musical circles.
In 1985 David decided he had brought the choir as far as he could and it was time to employ a professional conductor to take it to even greater heights. At this point the December Festival Choir became the Aylesbury Festival Choir. David continued his support of the choir with his advice and by singing tenor.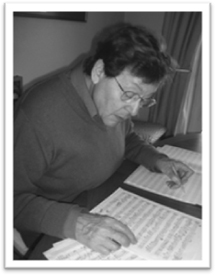 As you will have read David was a leading figure in the musical life of Aylesbury for over 50 years, as Assistant Conductor of Aylesbury Orchestral Society, conductor of December Festival Choir (now known as Aylesbury Festival Choir) which he founded in 1958, and Music Adviser to Aylesbury Vale District Council. He conducted a performance of Handel's Messiah for the opening concert of the Civic Centre, and organised and conducted the concert there to celebrate the 150th anniversary of the Bucks Herald in 1982. For over 30 years he organised 'Carols for Everyone' - the town's annual carol concert and his choir performed in various venues in Aylesbury Vale.
An accomplished musician, he enjoyed sharing his enthusiasm and knowledge with others and was always supportive and encouraging to young musicians. He was delighted when his grandsons Carl and Craig started learning the trumpet and were able to play 'Happy Birthday To You' at his 70th birthday.
When he retired he had more time for composing; he began writing musicals for primary schools and also wrote some larger choral and orchestral works, including one for Aylesbury Festival Choir's 50th anniversary concert in 2008. He was not a fan of technology and although he could use the computer, he wrote all his music by hand - and it was beautifully neat!
In spite of his musical achievements, David was a modest man but one of his proudest moments was when in 2004 he received The Lady Hilary Groves award - a national award for his lifelong contribution to amateur music. The following year he was invited to a reception at Buckingham Palace to celebrate British music where he met the Queen and other members of the royal family.
David always loved the sea and rivers and he and Pat spent many holidays either on or beside the water. He bought the hull of an 18ft motor boat, which they aptly named 'Water Music', and spent many hours fitting it out; when it was complete they enjoyed holidays on the Grand Union canal. He also looked forward to their annual holidays on hire boats, often with friends, on the Norfolk Broads and in recent years he enjoyed river cruises in Europe; these always had a music theme with regular stops for concerts in various places. It is perhaps fitting that David's last holiday was in Guernsey, a place he loved and which he and Pat had visited for many years.
His other interests included reading and military history and he loved to get his head into an historical novel with a glass of his favourite red wine beside him.
He coped with the two major traumas in his life – the death of his son, and his battle with cancer - with a quiet fortitude and dignity, never complaining and always appreciative of the help he received. After his successful treatment for lymphatic cancer 6 years ago, he and Pat became involved with the local Lymphoma Association support group where he helped and encouraged others who were facing the same battle; they held many fundraising events including an annual lunch which many of you reading this will have attended.
His contribution to music in Aylesbury was outstanding and he gave much enjoyment to very many people who will be eternally grateful to him.
The many tributes which his wife Pat has received acknowledge his musical talents and impact on so many people's lives, his kindness and his generosity – and there is a recurring comment – "he was such a lovely man".